Welcome to the
Feminist Women's Health Center
dba Cedar River Clinics
Established in 1979, FWHC is a nonprofit organization that promotes and protects a woman's right to choose and receive reproductive health care. FWHC (of Washington State) was founded in Yakima, WA by Beverly W. and Deborah L. to bring reproductive choice to women in the large rural area known as Central Washington. We were modeled upon the early feminist clinics in Los Angeles. Today only 14 nonprofit abortion-providing feminist health centers remain across the country.
In Washington State we are known as Cedar River Clinics and serve over 4,000 women annually at clinics located in Renton, Seattle and Tacoma , WA. (see history and accomplishments)
VISION
We have a vision of a world where all women freely make their own decisions regarding their bodies, reproduction, and sexuality -- a world where all women can fulfill their own unique potential and live healthy whole lives.
MISSION
To achieve reproductive freedom, we provide abortion and reproductive health services and information, so women may determine their own destinies.
STRATEGY
Dedicated to women's reproductive freedom, health and equality, Feminist Women's Health Center/Cedar River Clinics is a social justice organization that combines direct services (abortion, birth control, reproductive healthcare), with advocacy and activism (to preserve and expand access) and community education (to demystify health information and empower women's health decisions.)
We provide woman-centered health care in a safe environment that promotes empowerment, mutual trust, and compassion.
We value the equality of all women, and do not discriminate in the provision of health care services based upon age, ethnicity, race, language, income, sexual orientation, disability, body size, nation of origin, citizenship, cultural heritage or religion.
We believe reproductive and sexual freedom are fundamental human rights for all women worldwide.
| | |
| --- | --- |
| | Feminist Women's Health Center of WA (Cedar River Clinics) are accredited by AAAHC demonstrating we meet rigorous standards for quality. |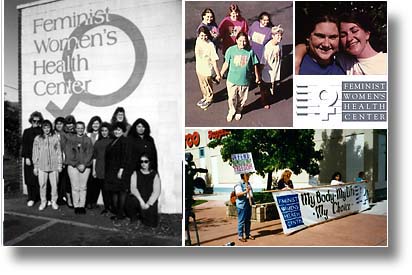 A powerful voice for choice, FWHC is committed to:
keeping abortion safe, legal, accessible, and acceptable.
training physicians.
assuring coverage under insurance and Medicaid.
helping women with limited financial resources.
protecting against violence at clinics.
standing up for women who seek abortions services and raising their voices.
expanding the availability of abortion information.
Contributions are tax-deductible. You can make an online contribution through Network for Good or mail a donation to 106 East E Street, Yakima, WA 98901, or call 800-572-4223 and explain that you want to make a credit card donation over the phone.

---
Women possess the right, the responsibility, and the personal conscience to make their own decisions about abortion.
Feminist Women's Health Center